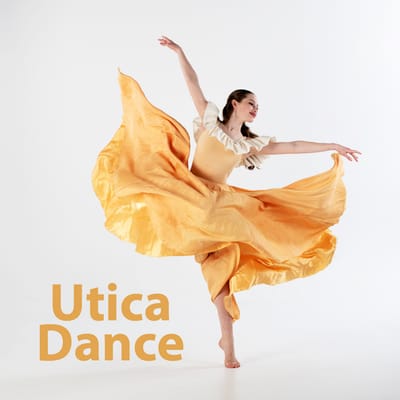 SPRING CONCERTS UPDATE FOR MAY 7, 24, 25:
Join us for all four show! Ballet program on Saturday, May 7th at 12:00 and 2:30 features Alice in Wonderland (35 minutes) and classical ballet excerpts. Jazz program on Tuesday, May 24 at 6:30 (with Bonus Alice!) and Wednesday, May 24 at 7:00 features Kathy Ryan's classic Down to the River and Swing It Kids! All $15 tickets are on sale now!
www.mvcc.edu/tickets
Looking forward to Summer Sessions June, July and August 2022 Utica Dance is open and offering both in-person and virtual classes in a modified schedule with instruction in ballet, jazz, hip hop, modern, yoga and other workshops. With the ever-changing situation in our community with the pandemic, please email to check availability and to reserve a space in class.
Classes in Ballet, Jazz, Tap, Contemporary, HipHop, Yoga and more! Check September schedule for our specials on Wednesdays.
Fall 2022 NUTCRACKER! All dancers with prior training or younger dancers just starting who wish to participate in our performances of Nutcracker 2022, December 9, 10, 11 at MVCC in Winter or Spring Concerts in Spring 2023, are invited to attend a trial class for placement.
To obtain up-to-date information about classes, I invite you to get in touch with us via email: nancy@uticadance.com, or phone--see our contact page on this site for details.
The Utica Dance faculty is passionately committed to providing students with the opportunity to learn the art of dance in a positive, structured, and inspiring environment. Utica Dance is independently owned and operated and was formerly known as the Munson Williams Proctor Arts Institute Dance Program. We are proud of our long tradition of over forty eight years providing the highest quality dance instruction in ballet, jazz, tap and modern dance.
Nancy, Tony, Kathy and Sharon are excited to welcome new and returning students to our world of dance.
Our dance productions provide all students in the Children's and Pre-Professional Divisions with opportunities to perform in professional caliber shows that range from classic ballets to original contemporary dances. Our Teen/Adult Division offers introductory and intermediate classes in ballet, jazz and tap for students who wish to experience the joy and benefits of dance training at any age. All prospective students and parents are encouraged to email or call for advice on classes.
We invite all students and teachers to enhance their dance training by attending any of the workshops offered at our school throughout the year. Workshops and master classes are led by our distinguished faculty, staff and guest instructors. Discounts and payment plans available for students taking multiple classes and families with more than one dancer.